The Groot Handelsgebouw is located directly next to Rotterdam Central Station. We are easily accessible by bicycle or public transport. There is also convenient parking for your car. Our car parks offer spaces to more than 950 cars.
Rotterdam Central Station
Rotterdam Central Station is the entry point to the city and the gateway to Europe. From the Groot Handelsgebouw you can easily jump on to the metro or a tram, bus, train or taxi. Public transport will get you to Schiphol Airport in just 26 minutes and in 12 minutes you can be at Rotterdam The Hague Airport.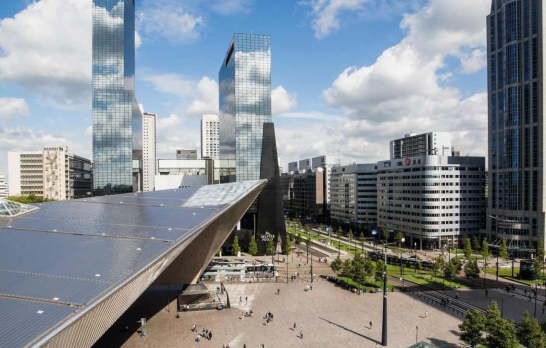 Parking
When leasing a space in the Groot Handelsgebouw, you can also purchase a car park licence. The Groot Handelsgebouw offers parking for more than 950 cars in several car parks. There are many charging stations for electric cars. Tenants and visitors may use the parking facilities and charging stations. We offer suppliers the possibility to load and unload inside the building.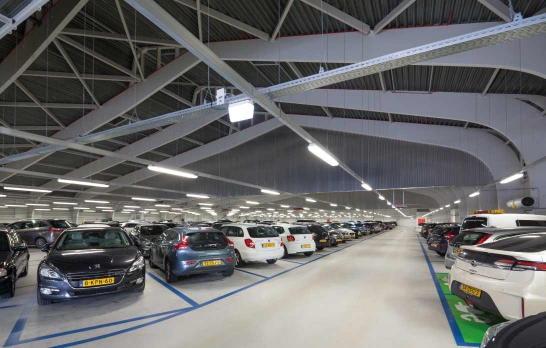 Shared Groot Handelsgebouw car
Sustainable mobility is important to us. This is why we have arranged for two shared cars to be available from Juuve Carsharing. You go to work using public transport or a bicycle, but would still like to use a car? The Juuve app allows you to make reservations easily and even open the car without a key. You are on your way in just a few minutes. The shared car is equipped with a navigation system, Bluetooth, climate control and cruise control.
One of the shared cars can be found in the expedition area of the Groot Handelsgebouw. The second shared car, a red one, is parked in the underground parking garage. Both cars are available for your use 24 hours a day and 7 days a week.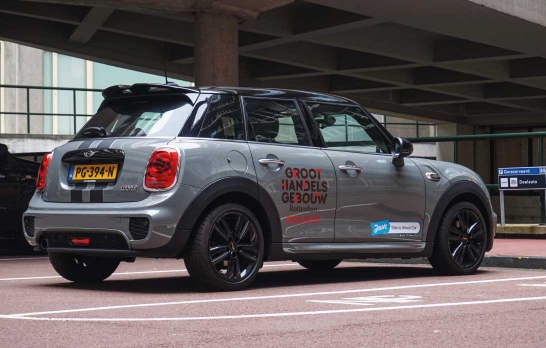 Endless possibilities
The Groot Handelsgebouw also provides indoor parking for bicycles and motorcycles. What you can do if you do not have personal transport? Hire a bicycle at Zwaan Bikes or a car from Hertz; this can all be found within the Groot Handelsgebouw.