From startup to multinational. We have the space and flexibility to cater for your needs. You can lease office, hospitality, retail and/or storage space.
Since its construction 65 years ago the Groot Handelsgebouw has been the largest multi-tenant business building in the Netherlands. The building has more than 120,000 m2  office and retailspace. We now accommodate more than 450 companies and 2 innovative office concepts. Due to their success, the Cambridge Innovation Center (CIC) and the Kleinhandel have expanded several times. They offer a creative and innovative work environment to more than 200 companies. In the Groot Handelsgebouw, you are surrounded by innovation.
Take a look at our available spaces
We would like to show you a small selection of our available spaces. The Groot Handelsgebouw offers office rental space starting from 50 m2 up to 1,700 m2. Our offer changes regularly, please contact us for up to date information. Mail info@ghg.nl or call +31 (0)10 240 34 34. We are happy to help.
Office space
The Groot Handelsgebouw is a national monument; however, it also meets all of your needs for a modern office space. Your workspace is available 24/7 and the security desk is always staffed. All our office spaces have controllable top cooling, thermally insulated double-glazing and turn/tilt windows. This guarantees that the indoor climate is always comfortable. In addition, office spaces have computer floors which enable you to easily hide cabling.
We offer flexibility in the decoration of office spaces in the Groot Handelsgebouw. Due to the set-up of the building. we are able to make the office space larger or smaller as you prefer. We offer office rental space starting from 50 m2 up to several thousand square meters. We offer a lot of freedom to decorate your office space. We make sure that your logo is clearly listed and displayed within the building.
Working in the Groot Handelsgebouw means working in a dynamic environment. Numerous cafés, restaurants and service providers are located in and around the building ready to make your (working) day more enjoyable. Looking for a place to relax during the day? Then come and enjoy our roof terraces on the 2nd and 8th floor with their beautiful view over the city centre and the Rotterdam harbour.
Would you like to know what the Groot Handelsgebouw has to offer? Contact us to plan a viewing by calling +31 (0)10 240 34 34.
Kleinhandel
Kleinhandel is the creative co-working concept of the Groot Handelsgebouw. Here you can find a flexible workspace, individual workspace or your own unit. Kleinhandel is truly a community. You share not only a kitchen and a meeting space, but also knowledge and social moments with your neighbours. Perhaps you need help with something practical or you would like to broaden your network? Make use of our online tool Bisner or, if you are feeling sociable, join us at the monthly Kleinhandel drink get-together.
For more information contact initiator Sem Carree or Brendan Jansen op de Haar via hello@kleinhandel.org.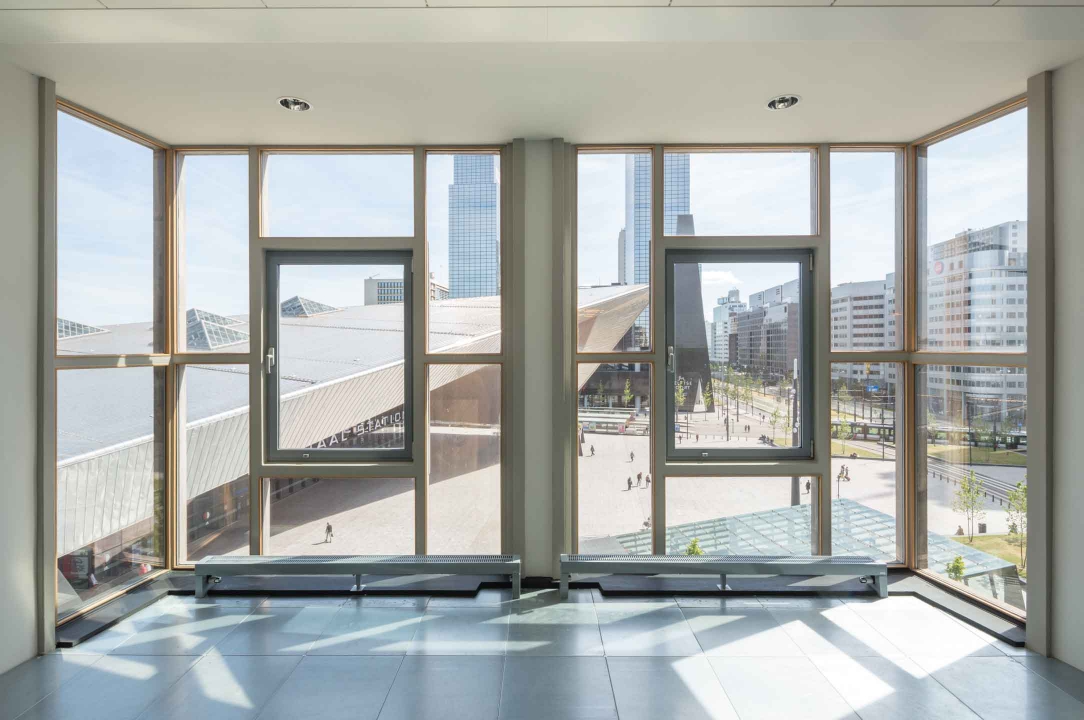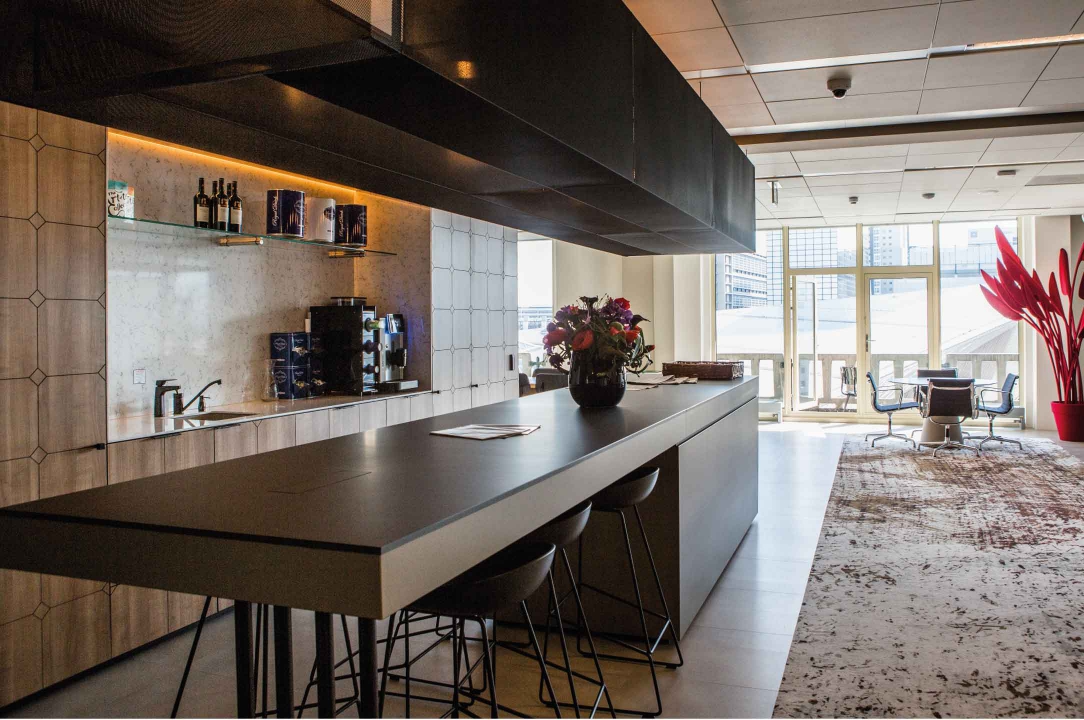 Hospitality and retail spaces
We offer the ideal location for your hospitality or retail space in the middle of the Rotterdam Central District. Is your new location right next to Rotterdam Central Station which is visited by 170,000 travellers per day? The Groot Handelsgebouw is a prime location with enormous appeal. Our cafés and restaurants are located on the ground floor, the 'foundation' of the building. The units on Stationsplein, Weena and Contradstraat are light, modern and contain every amenity. The areas vary from 130 m2 to 970 m2.
Are you interested in a viewing? Call +31 (0)10 240 34 34 or contact us by mail and we plan a meeting as soon as possible.