Former resident in the spotlight: Ferry Kool
Not many people know it, but there used to be four staff flats in the Groot Handelsgebouw on the seventh floor. We spoke to a former resident, Ferry Kool. He spent part of his childhood in the largest multi-tenanted business space in the Netherlands. Ferry now lives in the province of Drenthe. At our invitation, he and his wife Monique visited the place that he has so many special memories of.
"I could go wherever I wanted."
Playground
"I came to live here in 1968, when I was ten years old. My father was an ex-marine and he became the security guard for the Groot Handelsgebouw. So we moved in here together with my mother and little sister. My father was very plain-speaking, but also very popular." For Ferry, the Groot Handelsgebouw was one big playground. "I could go wherever I wanted. Being the security guard, my dad had a great big bunch of keys and I 'borrowed' them occasionally. Then I'd drive my Fiat 850 into the goods lift so that I could wash it on the seventh floor. In the evenings, I chased the pigeons out of the inner courtyard with an air rifle. Yeah, I guess I was a bit naughty. Whenever anything went wrong, people used to say it must have been Kool's kid playing up again."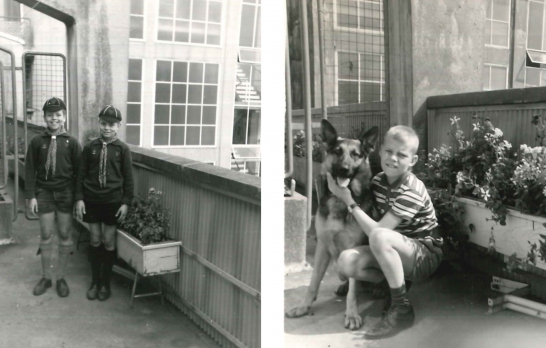 Lift attendant
It wasn't all play during Ferry's childhood – he worked hard too. "My father arranged all kinds of jobs on the side for me. I helped do the cleaning in the evenings and worked as a lift attendant on Saturdays. I spent the whole day pressing lift buttons, in particular so that people could visit Scheffers on the fourth floor." Monique laughs. "That's a story I didn't know."
"We enjoy the peace and quiet in Drenthe."
The city is way too busy
Ferry says that the central hall was much busier then. "There used to be a florist's and a tobacconist's, and you could hire cars from Hertz. In the middle, there was a fountain with fish." Monique also remembers it as a lively environment. She lived outside the city and regularly stayed over in Rotterdam at the weekends. That was until Ferry went into military service in 1978 and they left Rotterdam. They don't miss the city. "It's way too busy there," explains Ferry, "and we enjoy the peace and quiet in Drenthe." Before going back home, he takes a moment to visit his former neighbour Mrs Stolk, the last remaining resident of the Groot Handelsgebouw.
Back to the overview of news