The Groot Handelsgebouw is the icon of post-war reconstruction. The idea for the multi-tenant business building was conceived during the Dutch famine (winter) in World War II.
Rotterdam's decisiveness
14 May 1940. Rotterdam's inner city was bombed and 388,000 m2 of commercial space was lost.
Many entrepreneurs could not afford new offices. World War II was not over, but entrepreneur Frits Pot conceived the idea to combine forces and made a first rough sketch of a multi-business building. Shortly after World War II, these plans were realised. Architectural office Van Tijen en Maaskant was instructed to design the Groot Handelsgebouw.
The design was huge, especially by Dutch standards: 220 x 85 metres and 43 metres high. The grand scale of the Groot Handelsgebouw was symbolic for the new dimensions of the city: this is what the 'new' Rotterdam ought to look like.
The first pile was driven into the ground on 17 May 1947, during the first 'Reconstruction Day'. The construction was still in progress when the first companies already took up residence in the Groot Handelsgebouw. Residents were shareholders and thus co-owners of the building. The Groot Handelsgebouw wass officially opened on 3 June 1953 by Queen Juliana of the Netherlands.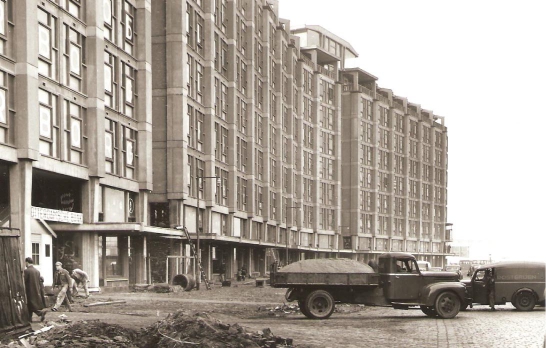 Revolutionary concept
The Groot Handelsgebouw owes its success to the visionary design by Huig Maaskant (1907-1977). For the design of the largest multi-tenant business building in the Netherlands, he drew inspiration from the largest multi-business building in the world. He travelled to Chicago to visit the Merchandise Mart. This building was exactly what Maaskant was looking for; impressive architecture, its own transport system and a design aimed at wholesalers.
The Groot Handelsgebouw became the location where wholesalers could store their stock and have showrooms and offices. The building was fitted with a 1.5-kilometre driveway and passageways wide enough to allow for forklifts. Shops, cafés and restaurants were set-up on the ground floor and the Kriterion cinema was built on the roof. In this way, the Groot Handelsgebouw also became a part of urban life in Rotterdam.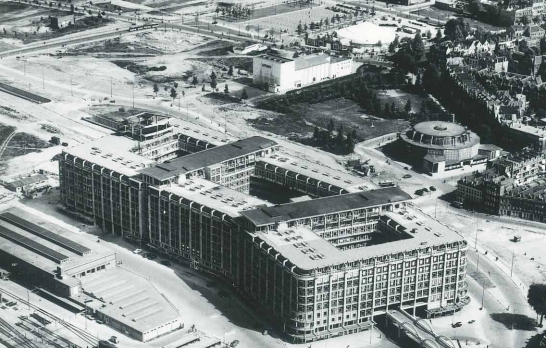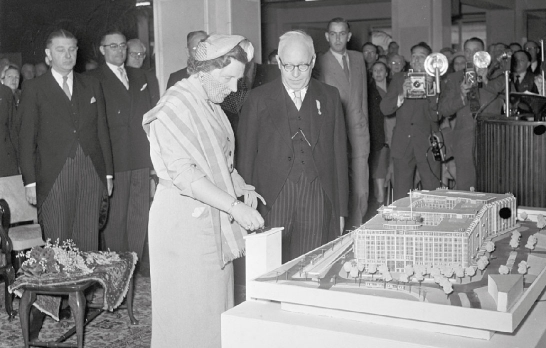 Building of the future
The building was completely renovated in 2005. Despite its impressive exterior, the Groot Handelsgebouw has proven itself to be a versatile building. Spaces initially accommodating wholesalers are now occupied by Kleinhandel; a co-working space for creative entrepreneurs. The Cambridge Innovation Center (CIC) established their first European office in the Groot Handelsgebouw in 2016.
Nowadays, the Groot Handelsgebouw is still the place in which ambitious people of Rotterdam and world citizens meet and go into business together. Complete with a gym, rooftop bar, restaurants and various service providers, the Groot Handelsgebouw is effectively a city within a city. Open 24/7 for a cup of coffee, a modern work space or a great cocktail.